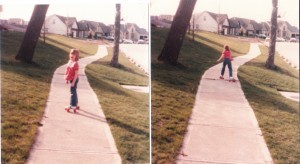 Laura Jeanine Bauer, a Kansas City native, graduated from Paseo High School and the San Francisco School of Fashion and Design. She was a street poet in Santa Monica, California, an actor, a stand up comedian, a collector of antiques, a paid companion for the mentally ill and a licensed masseuse.
Laura wrote spontaneous poems and gave them to homeless people sprawled on sidewalks outside fast food restaurants, gathered on the boardwalk and resting under trees in public parks. She often wrote beach poems, tore them into tiny pieces and tossed them into the ocean. Only a few handwritten poems found in her apartment remain.
She died on September 11, 2009 at the age of 34.